Bee Attack
On Monday, the bees almost got me.
Some robot-programming colleagues and I were returning to work after taking a little stroll through old town Pasadena when we noticed a whole bunch of bees flying around the tree a few feet from the front door to the building.
The afternoon group stroll is an eagerly awaited part of my daily routine. Seeing bees is, at best, an opportunity to think "Wow, I am so much better with this debilitating bee phobia than I used to be."
When we got closer, we saw that a swarm of bees had settled in the tree.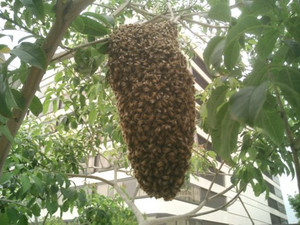 swarm of killer bees. photo by luis.
We fled to the relative safety of the indoors.

From: Xxxxx Xxxxxxxx <xxxx@idealab>
Subject: [allpas] Bees In The Vicinity

All,

Please do not leave by the front doors today -- there is
a swarm of bees building a hive on the tree between our 2
exit doors on Union St. We have called the pest control
people but they will not arrive until 5pm so be very
cautious when you leave and avoid going near the front of
the building.

OK, so now our refuge had become a potential tomb. But whatever, I wasn't looking for any trouble.
qxxxxxjxx: Now on the news they're saying there's a swarm at a school.
It's one thing to sit tight and wait for the pros to handle a bunch of killer bees taking a little rest in the tree outside (I was willing to believe that killer bees get tired, too), but it had become clear this was a coordinated attack. It was time to take the initiative.
Which we did. Obviously I can't get into the details of the beyond-cutting-edge robot defensive software and matching only-occasionally-lethal offensive hardware we recklessly modified over the course of the next hour to create a vision of autonomous bee-reaping fury straight out of the darkest half-forgotten africanized honey bee mythologies. But I can say that the goal was not just to coldly and with ruthless machine efficiency 'terminate' the insects that dared mess with us, but to send a message. A message of species superiority, of pain, and especially dismemberment.
At 5 o'clock when the pest control guy arrived, there was nothing left for him to do but dispose of the crushed, gleaming carapaces littering the sidewalk.
Posted by jjwiseman at June 26, 2003 01:49 PM