Direct to Video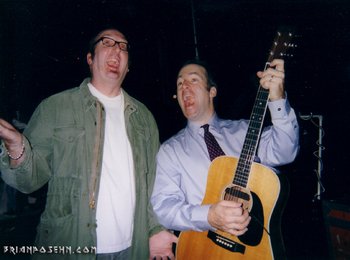 Last night I went to an awards show and almost spilled my drink on Bob Odenkirk and Brian Posehn.
It was a complimentary drink, so that wouldn't have been a serious tragedy.
I have a hypothesis: smaller awards shows are more fun.
A small show means that the big winners (Ridley Scott, James Earl Jones) transmit their acceptance speeches over wormhole ansibles or something, but it also means that everything is more informal and it's really easy to score multiple delightful little cheesecakes and gift bags (3x$500 off my next chartered private jet--SCORE!). It means seeing closeup a lot of stars who are on the fringes for one reason or another; sorta "big" stars on a downward trajectory (Jenny McCarthy, Natasha Henstridge), little stars on an upward trajectory (the two guys I almost stumbled into), or the actress who played my favoritest, whiniest character in Alien (Veronica Cartwright, who played Lambert).
It also means choosing a card (king of clubs) for Ricky Jay, and seeing him do a Max Malini-style trick while sitting three feet away and being completely astonished.
How do I get away with this?
Posted by jjwiseman at December 03, 2003 09:12 AM