Montezuma Begins
Lucene is a very popular open source search engine library written in Java. Ferret is a Ruby port of Lucene. Montezuma is my in-progress Lisp port of Ferret.
The idea is that if you have a Lisp application in which you'd like to be able to do text-based search, Montezuma will handle it. One search engine flexible enough to be used for project directories, Blog engines, wikis, IRC bots and paste services. Custom match scoring, phrase queries, wildcard queries, word proximity queries, date range searching and fielded (e.g., title, author, date, contents, channel) searching should be significantly more powerful, and easier for users than throwing a regex input field up on a page. If you want, you can write your own tokenizers and document classes.
I don't even remember what burning desire for Lisp-based search functionality originally motivated me to start writing Montezuma, but let the post hoc explanation include the following:
Learning Ruby. It's been interesting comparing the original Ruby version with my Lisp translation.
Learning about the inner workings of search engines. Though I've been surprised at how far I've been able to get without a complete understanding of Lucene-style index management.
Bringing Lucene home to Lisp.
Lucene seems to have Text Database (TDB) in its heritage, which was a Common Lisp text search engine developed at Xerox PARC in the late 80s/early 90s. "An Object-Oriented Architecture for Text Retrieval" is a very nice introduction to the principles on which TDB was built.
This paper presents a software implementation architecture for text retrieval systems that facilitates (a) functional modularization (b) mix-and-match combination of module implementations and (c) definition of inter-module protocols. We show how an object-oriented approach easily accommodates this type of architecture. The design principles are exemplified by code examples in Common Lisp. Taken together these code examples constitute an operational retrieval system. The design principles and protocols implemented have also been instantiated in a large scale retrieval prototype in our research laboratory.
For some reason I'm surprised by the modern style of the code examples in that paper. It's in lower case, and doesn't use tagbody!

(defmethod relevance-search ((app t) query &optional (threshold 10))
  (let ((terms ())
	(scores ()))
    (map-tokens #'(lambda (token) (pushnew token terms :test #'token-string=)) query)
    (dolist (term terms)
      (let ((weight (/ 1.0 (+ (get-term-frequency app (token-image term)) .001))))
	(dolist (freq-pair (get-frequency-postings app (token-image term)))
	  (let* ((id (car freq-pair))
		 (freq (cdr freq-pair))
		 (score-pair (assoc id scores)))
	    (unless score-pair
	      (setq score-pair (cons id 0.0) scores (cons score-pair scores)))
	    (incf (cdr score-pair) (* weight freq))))))
    (mapcar #'car (subseq (sort scores #'> :key #'cdr) 0 (min threshold (length scores))))))

(Speaking of search, the way I found the Lisp file containing the paper's code, which I typed in by hand, was with a little mdfind "org_lisp_definitions == '*relevance-search*'". Maybe that Lisp Spotlight plugin turned out to be somewhat useful, after all.)
Montezuma is probably about 50% complete. Searching (as opposed to parsing documents and updating indexes) and query parsing remain to be written.
It might seem absurd to say that the only part left undone in a search engine is the part that searches, but there's a lot of machinery that had to be put in place first: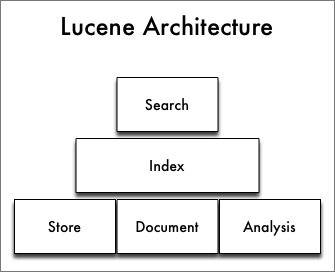 I can't wait to see how it fares performance-wise to the Ruby and Java versions.
Posted by jjwiseman at March 16, 2006 02:59 PM