Trevor Paglen at Machine Project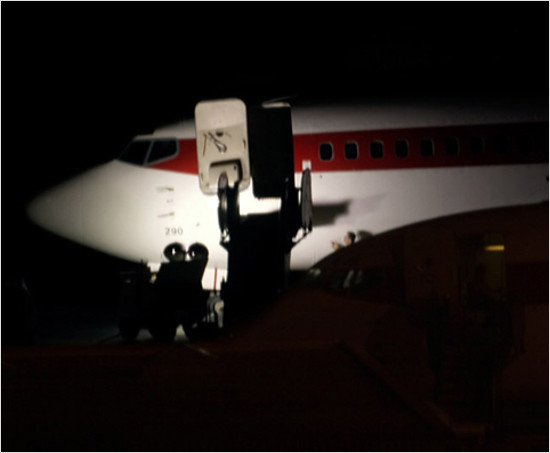 "Unmarked 737 at 'Gold Coast' Terminal/Las Vegas, NV/Distance ~1 mile/10:44 pm"
"A geographer by training, a conspiracy theorist by instinct and an investigative reporter by avocation", and "radical geographer, muckraking author and outlaw artist", Trevor Paglen will be talking at Machine Project in LA tonight.
He's been one of my biggest inspirations ever since his article in the Village Voice, "Planespotting: Nerds with binoculars bust the CIA's torture taxis".
Here's a description of a talk he gave in February: Trevor Paglen's talk at Transmediale.
Posted by jjwiseman at
02:51 PM
|
Comments (0)
|
TrackBack
uWink: A Cold Greasy Plate of Fail
JoAnne and I had dinner at uWink last night. uWink is Nolan Bushnell's new high-tech restaurant concept, where every diner has their own touch screen for ordering food and playing games.
The concept may not be so bad, if your goals include minimizing (almost removing) interaction with waitstaff and adding opportunities to interact with other diners, but wow right now this is a terrible realization of that concept. From the perspective of a customer it was ridiculously terrible. As a software guy, I found it totally entertaining and educational—failure on this scale is compelling.
When we first walked in, JoAnne asked the host about some tables that looked like they were set up as multi-player LCD projector-based gaming stations. The host said "Oh, those don't work. I don't really know why not." That could be the restaurant's motto.
Once we were seated, I swiped my driver's license and our waiter/runner helped us login. I entered my name and then JoAnne accidentally skipped past the part where she was supposed to enter her name. There was no going back, so she was "Guest 2" from then on.
We ordered food and drinks, and the interface was pretty straightforward, but tedious and slow compared to the old fashioned way of ordering.
After submitting our order we got a screen for paying our bill. So we paid it, before we even got our drinks. Then our screen locked up. We flagged someone down and were told that once you pay your bill your session ends, so we should have waited until the end of the meal. This also meant that we lost the game credits from our previous order. The runner reset the thing and we logged in again. This time JoAnne entered her name but I got confused and skipped past my part and so I became Guest 2. I think we both need to sign up for classes at the Learning Center.
About every two minutes a big message would pop up asking if we wanted to join a group game. This was extra distracting when we were busy trying to figure out how to remove something from our order or submit a request for more bbq sauce for my sandwich.
We played a bunch of games, which were mostly kind of pointless or difficult to figure out. There was a Boggle clone that was fun because we played against two other tables (we smoked 'em).
There were constant crashes, hangs, resets, error messages and console spew. For a while one of the projectors displaying group game info just showed a big 404 error. Two or three times we had to ask a waiter to go in back and reset our station.
If you need a waiter for something, like more salt or bbq sauce, you need to touch the help icon, then select "I need assistance $0.00" or "I need more sugars $0.00" or "I just want someone to explain to me why it costs $0.95 to get my drink up as opposed to on the rocks $0.00" and add it to your order, then submit the order. For real. Only a programmer could come up with an interface like that and then not be ashamed to unleash it on the public.
The guy with two kids who sat down at the table behind us gave up and left after 15 minutes. If we didn't find the whole thing so funny we might have done the same.
At a conference last year I heard Bushnell talk about how he wanted robot waiters that could serve your food at uWink. At the time I thought that would be fun and awesome, but I'm having second thoughts today. It's true that the restaurant has only been open for a year, but it's in need of something more profound than a few software tweaks.
Summary: Ambitious idea, less than impressive UI design, terrible execution. Food was eh. Once they get robots, stay away—for your own safety.
Update: More comments on reddit.