Pupusa on a Stick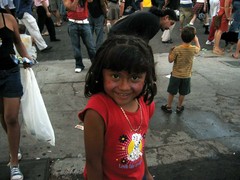 Last year was about Sonic Youth, this year was about the food. Squishy, Jack, Sonic and I went to Sunset Junction and ate and ate. Then Jack ate again. Then we drank. Then I rolled around inside the Gravitron, where all us riders applauded the operator sitting inside with us at his little centrally located control station every time he exceeded the maximum safe speed of 24 RPM.
The pupusas, giant bacon-wrapped hot dogs, sweet corn tamales and Hawaiian bbq helped a lot to ease my longing for the pork chop sandwiches, fried cheese on a stick and cream puffs of the Wisconsin state fair.
Once again, Tony Pierce has pictures.
Posted by jjwiseman at
08:52 AM
|
Comments (1)
|
TrackBack