CLHS Search Mozilla Plugin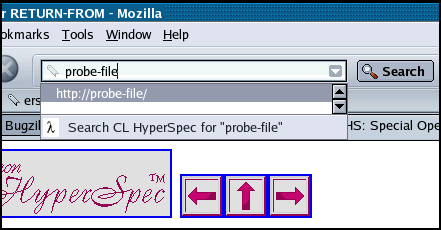 Xach Beane has a very simple lisp hyperspec search plugin for Mozilla. The plugin, originally by Andreas Fuchs, lets you search by symbol (probe-file), by section (9.1.2), and even by format directive (~A).
Once you've copied the plugin files to the correct location (instructions are on Xach's page), you can select "CL HyperSpec" as the default search engine in Mozilla's "Internet Search" preferences.
This would be handier if Mozilla had an easier interface to using multiple search engines. As it is, Google is too useful to relegate to secondary status.
Posted by jjwiseman at
03:38 PM
|
Comments (3)
|
TrackBack